This story is part of Blue Cross and Blue Shield of North Carolina's "Changemakers" series—where we travel the state to find people making a difference in the health of their communities and share their inspiring stories.
One autumn day in November of 1962, a preacher stood inside a high school gymnasium in Rocky Mount, North Carolina, and delivered an early iteration of what would become one of the most revered speeches in American history.
"I have a dream that one day right here in Rocky Mount, the sons of former slaves and the sons of former slave owners will meet at the table of brotherhood, knowing that one God brought man to the face of the Earth."
Though Martin Luther King Jr. may be one of Rocky Mount's most famous visitors, his appearance is just one treasure within an extraordinary trove of Black history in Edgecombe County. Just to the east of Rocky Mount is Princeville—also known as Freedom Hill—the first town in the U.S. to be incorporated by newly freed slaves after the Civil War. And, the neighboring town of Tarboro is home to Janice Bryant Howroyd, the first African-American woman to build and own a billion-dollar company.
But along with these milestones has come incredible adversity. In 1999, Princeville was devastated by Hurricane Floyd, flooding the Tar River on which the town sits. Seventeen years later, Princeville and its neighboring towns were struck again by Hurricane Matthew—causing $75 million in damages.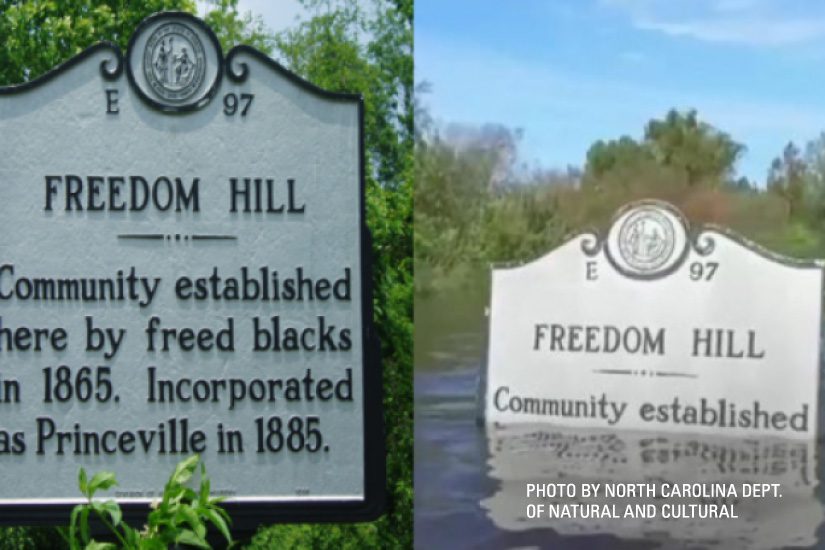 The ruinous effects of the flooding throughout the area have caused lasting economic depression. From 2017 to 2020 Edgecombe was ranked as the state's lowest-income county. Today, approximately 24% of residents—most of whom are Black—live below the poverty line, which is almost twice the national average.
It was just after Hurricane Matthew swept through that Vichi Jagannathan arrived in Edgecombe County as part of the Teach for America (TFA) program after obtaining her Masters in Electrical Engineering from Stanford University. Through TFA, she met Seth Saeugling, who was also experiencing the rural South for the first time. Both were amazed by the many polarities at play in the region.
"Some of the assets of the place really struck us, and at the same time, there were these massive disparities between the schools we were teaching in and the nearby urban places we'd been," Jagannathan recalls.
After two years of serving in TFA, Jagannathan returned to the Bay Area. Still, she and Saeugling kept discussing ways that the entrepreneurial infrastructure of San Francisco could work with the vast potential of places like Edgecombe. "We started thinking, 'Is there a way to connect the different processes, approaches and creative thinking of the Bay Area with the assets of rural North Carolina?" Jagannathan says.
After completing an MBA program at Yale, in 2017 she and Saeugling moved back to Edgecombe County, hoping to make positive change by using Stanford University's design thinking process, a methodology for creative problem solving by engaging with people to understand their needs and pain points prior to designing solutions.
But Edgecombe had changed in the years since they had left. A new superintendent and new sheriff—both people of color—had been elected, and a sense of progress was in the air. "It was like, 'If we're going to do this, this is the right time and place," Jagannathan says.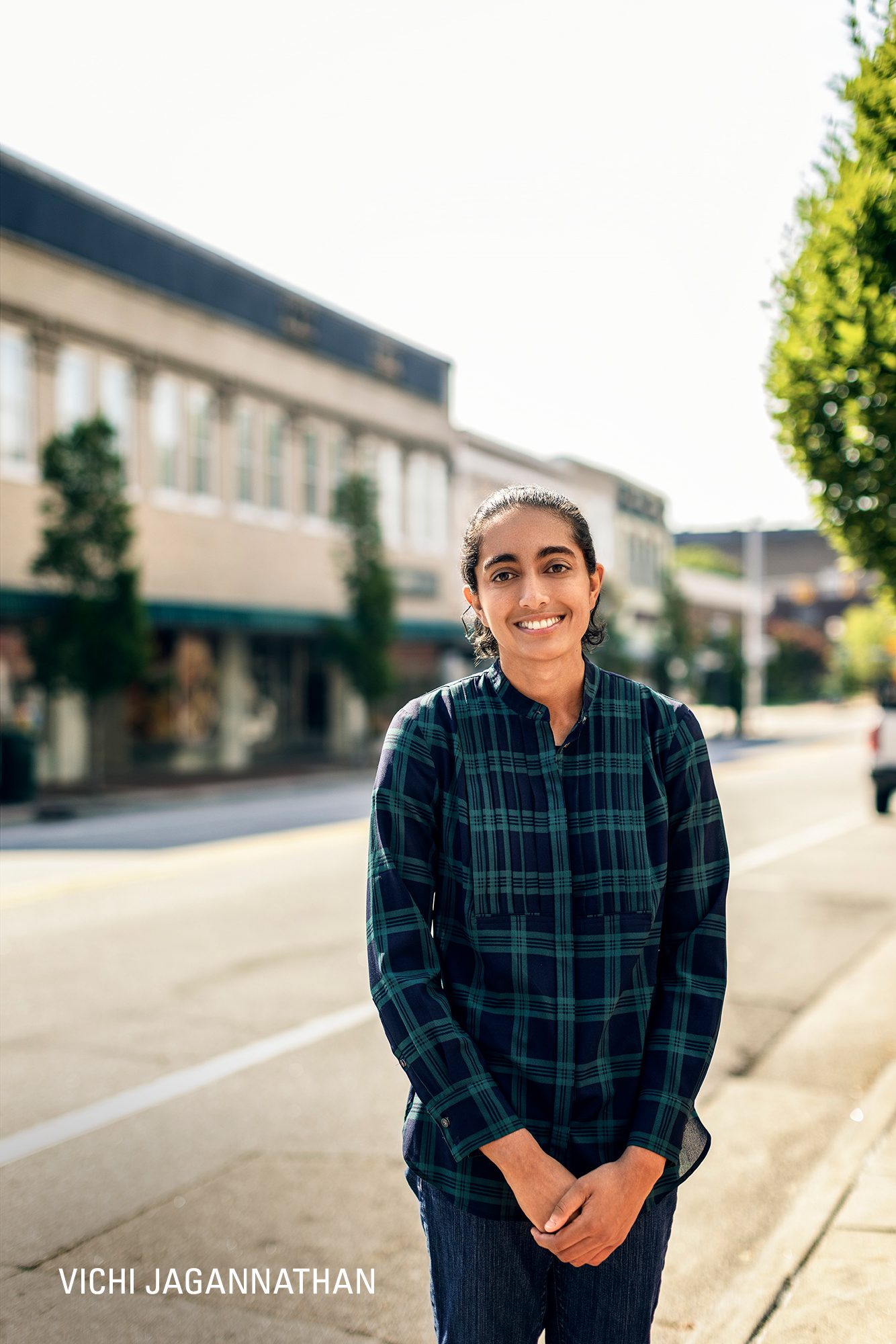 She approached the local school district, offering to run a research project to learn from students and families what type of support would be most helpful to them. Following the interviews, they observed one commonality: unresolved trauma.
Substance abuse, neglect, incarceration, racism, and consistent unemployment are types of trauma commonly associated with Adverse Childhood Experiences (ACEs). ACEs—which appear at higher rates in rural and low-come communities—change brain development and how the body responds to stress, which can lead to chronic health problems, mental illness, and substance use disorders in adulthood.
For those caught in the cycle of trauma, there's no easy out. "There would be one big event that might lead them to seek help from public agencies," Jagannathan says, adding that upon reaching out, "They would almost always be met with isolation or punishment… just the wrong response."
What results is discouragement. When people feel as if there is no support or hope for them out there, they often disconnect from school and work and engage in destructive—sometimes criminal—behaviors.
To break the cycle and bring better health outcomes to Edgecombe County, Jagannathan and Saeugling co-founded the Rural Opportunity Institute (ROI), an organization fiscally sponsored by Area L AHEC that strives to end generational cycles of trauma and poverty by preventing ACEs and toxic stress for the community.
ROI runs a nine-month program called Resilient Leaders Initiative, for a cohort of four to five local organizations including schools, social service and police departments, health organizations, juvenile detention centers and churches. Participants learn Stanford's design thinking process and are trained on how to recreate that process within their organizations.
"Our goal is to build [organizations'] own capacity to be able to do the design process, interview the people they serve, listen to their needs and then develop solutions," Jagannathan says. With each program, she says, "the face of it shouldn't be us," but rather "somebody from the community who themselves has lived the experience."
Participating organizations are first trained in understanding and managing their own stress and trauma. Next, they interview their clients to gather information, then brainstorm solutions and test their hypotheses in small ways prior to full investment. The hope is that by the end of the nine months, each organization has developed a deeper understanding of the themes that exist among their constituents and have crafted restorative, trauma-informed solutions that address those themes.
Take, for example, a classroom full of disruptive students. ROI recently worked with Pattillo Middle School in Tarboro to address discipline issues among "frequent flyers," a name given to students who are consistently sent out of class for behavior issues and are expected to then sit quietly at in-school suspension. This tactic was proving pointless as the frequent flyers kept flying.
ROI helped the school envision and design a different way of addressing conflict with biofeedback, a technique used to measure and alter body functions such as brain activity, blood pressure, and heart rate. ROI began a pilot program in which 10 students from Pattillo used a biofeedback breathing app via a device connected to their phones each morning, afternoon, and as needed.
Over six weeks the students' anxiety decreased by over 50% and their behavior improved substantially, limiting their "flights" out of class. The students became more self-aware, and that self-awareness empowered them to ask to perform the breathing exercises when they felt anxiety setting in. Many now serve as biofeedback trainers for incoming students, while a staff member facilitates restorative discipline on an ongoing basis.
Dr. Lauren Lampron, then principal of Pattillo Middle School, who has since become the principal of SouthWest Edgecombe High School, was witness to the impact that biofeedback incorporation had on the entire school. "Our kids are learning more about themselves, the adults in the building are learning more about themselves, and I'm learning new tools to better lead a school that supports all aspects of a child's growth," Lampron says.
The impact that biofeedback has had on Pattillo Middle School has spread far and wide. Other schools in the area are incorporating it, as well as the Wilson Department of Social Services. ROI is currently discussing the launch of a pilot program with the Edgecombe Youth Development Center.
In the five years since inception, ROI has grown, now working with Nash and Wilson Counties and receiving interest outside the state. School systems and local government agencies are eager to decipher the struggles and needs of their constituents. They're incorporating support tools such as counselors, wellness initiatives, and resiliency trainings to improve health and well-being and help alter the course for people who are struggling under the weight of enormous trauma. They are helping them find a way out.
In 2022, ROI was selected as one of 10 organizations in Blue Cross and Blue Shield of North Carolina's inaugural Strengthen NC cohort. Strengthen NC represents an intentional investment in building the capacity of organizations led by or serving historically underrepresented communities and people of color.  Through one of the program's technical assistance offerings, Blue Cross NC employees helped create a dashboard that ROI uses to evaluate the performance of their programs.
"Now, we have this tool that we can adapt. I don't think we ever would have built it on our own, even if we could envision it," Jagannathan says. "If people in our community can have access to Blue Cross's technical capabilities, support and resources, that's awesome. And if Blue Cross NC can have exposure to what our community needs, I am hopeful that might influence them to better serve rural places."
Years ago, while working in electrical engineering, Jagannathan was studying how to make a 3G phone connection one percent faster. She came to discover that kind of connection wasn't meaningful to her. "It was so far away from the person that benefits from it," she says. And so, instead, she pursued another dream. "Through building community relationships, I just feel like it's a different level of meaning. It just feels way more purposeful. I'm engaging with individuals, and I can really touch and feel the impact."
See how Blue Cross NC is partnering with local organizations across North Carolina to help address the unique challenges in their communities.